Clear pots made from plant-based PLA, perfect for dips and dressings.
The 2-4oz pots fit Vegware 76-Series cold cups as an insert for snack combos.
Clear flat lid to fit on Vegware's 2-4oz portion pots. Offers a great seal
and easy stacking. Made from PLA, a renewable material made from plants.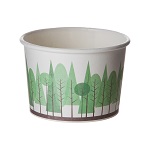 Soup Cup and Lids
Sizes: 8 oz, 12 oz, 16 oz, 8 oz lid, 12-16 oz lid
Item #s: 4330750, 4330850, 4330950, 4335050, 4335150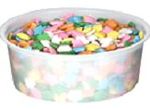 Corn based portion cups with lids
Sizes: 2oz, 3oz, 4oz
Item #s: PC200, PC300, PC400 Lid: PCLid
Clear, PLA (made from plants) portion cups and lids
Sizes: 2oz, 3.25oz, 4oz
Item #s: GPC200, GPC325, GPC400 Lids: GXL250, GXL345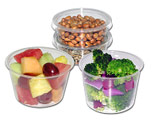 Corn based portion cups with lids
Sizes: 2oz, 3oz, 4oz
Item #s: YSPLA- 200EC, 400EC Lids: YSPLA- 2,3

Wax coated paper portion cups
Sizes: 0.5oz to 5oz
Item #s: 50, 75, 075S, 100, 125, 200, 325, 400, 450, 550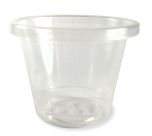 Corn based portion cups
Sizes: 1oz to 3oz
Item #s: CP-CS-1S, CP-CS-3S