Round deli pots made from plants, in sizes 8-32oz deli containers.
Deli pot lid made from plants. One lid fits Vegware 8-32oz deli containers, making storage and quick service easy.
Strong and light deli containers in 6 sizes – perfect for salad bars. Hinged option to present cold salads, desserts and deli treats. Made from renewable, plant-based materials.
Compostable food containers, perfect for everything from hot soups and porridge to frozen yogurt and ice cream sundaes.
Flat CPLA lids for hot food available in clear or off-white. Clear PLA flat and domed lids for cold food.
Versatile kraft board cartons with a compostable grease-resistant lining. Leakproof webbed corners and fold in flaps give a secure closure. Perfect for either hot pies or pasta dishes.
Compostable cosy sandwich sofa – perfect for square cut bloomer sandwiches. Use with Vegware bloomer window bag.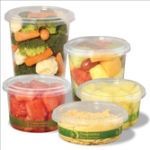 Clear, corn based deli containers with lids
Sizes: Various
Item #s: DR-8, DR-16, DR-24 LID: PLA-DRL

Corn based deli trays with lids for cold foods
Sizes: Various
Item #s: 973016, 972013, 974015, 975016, 977018
Dart Container

PLA lined paper deli containers
Sizes: Various
Item #s: VS5**PLA
Dart Container
Bare® by Solo® Eco-Forward® VS SSPLA Paper Food Containers – Bare Design
Sizes: 8 oz, 12 oz, 16 oz
Item #s: V508PL-JF522, V512PL-JF522, V516PL-JF522
Dart Container
Solo® Grease Resistant Paper Fry Cups, Munchie Cups and Popcorn Cups
Sizes: Fries: 9 oz, 12 oz, 16 oz, 32 oz; Munchie: 2.4 oz, 3.5 oz, 4.5 oz, 9 oz; Popcorn: 24 oz, 32 oz, 46 oz
Item #s: GRS9N-00021, GRS12-00021, GRS16-00021, GRS32-00021, GF24-00645, GF35-00645, GF45-00645, GF90-00645, V24-00061, V32-00061, VB46-00061, V24-00059, V32-00059, VB46-00059
Dart Container
Solo® Paper Portion Containers
Sizes:.5 oz, .5 oz Squat, .75 oz, .75 oz Squat, 1 oz, 1 oz Squat, 1.25 oz, 2 oz, 3.25 oz, 3.5 oz, 4 oz, 5.5 oz
Item #s: 050-2050, 050S-X2050, 075-2050, 075S-2050, 100-2050, 100S-X2050, 125-2050, 200-2050, 325-2050, 450-2050, 400-2050, 550-2050
Dart Container
Eco Expressions™ Eco-Forward® Square PLA Compostable Bases and Lids
Sizes: 7.5 IN, 9 IN
Item #s: 972013-CO33, 974015-CO33, 973016-PL90, 975016-PL90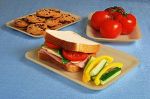 PLA blown meat trays
Sizes: Various
Item #s: 1, 1S, 2, 2S, 4D, 4PP, 14, 34, 35, 38, 7H, 8H, 8PP, 809P, 9L, 10K, 10S, 10P, 25S, 25P, 25H, 17S, 2PP, 3PP, 12S, 15D, 20S, 42P, 1.5, 10×14
*not accepted in residential curbside collection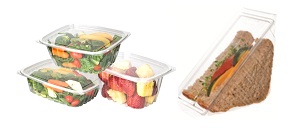 Clear, corn-based deli containers w/ lids
Sizes: 8oz, 12oz, 16, 32oz, 48oz, 64oz, various
Item #s: RC**, SB**, SWH3, RDP5
LIDS: RC**, RDP**, SB**, SCTR series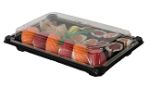 Sushi Trays with Lids
Sizes: #2 small, #3 large
Item #s: SH2-CPK, SH3-CPK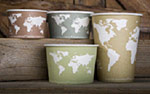 PLA lined paper containers for hot or cold foods
Sizes: 12oz to 32oz
Item #s: BSC – 5, 12, 16, 32, – WA
PLA lined paper containers for hot or cold foods
Sizes: 26oz, 49oz, 66oz, 96oz, 45oz
Item #s: Bio-Plus Cedar Grove 01BPTRAIIM, 02BPTRAIIM, 03BPTRAIIM, 04BPTRAIIM, 08BPTRAIIM (only containers that state Cedar Grove on the bottom are accepted)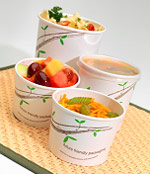 PLA lined Paper containers
Sizes: 6oz, 8oz, 12oz, 16oz, 32oz
Item #s: 76842, 76843, 76844, 76845, 76846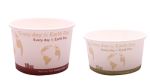 PLA lined Paper containers
Sizes: 8oz, 12oz, 16oz, 32oz
Item #s: 8BSB-E, 12BSB-E, 16BSB-E, 32BSB-E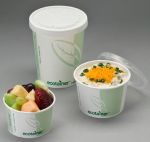 PLA Lined Paper containers and Lids
Sizes: 8oz, 12oz, 16oz, 32oz
Item #s: DFRE-8, DFRE-12, DFDE-12, DFSE-16, DFRE-32, LFRHE-12, LFRHE-16, LFRHE-32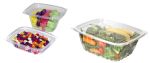 PLA deli containers and lids
Sizes: 8oz, 16oz, 32oz
Item #s: YL18-6008, YL18-6016, YL18-6032, Lids: YL18-1160, YL18-1120, YL18-1123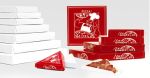 Clay coated paper to go boxes
Sizes: Various
Item #s: 1480, 0720, 0706, 0719, 07197, 27**, 27***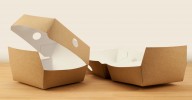 Paper food kraft boxes
Sizes: Various
Item #s: 1182, 1183, 1184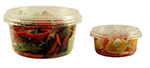 Corn based deli containers
Sizes: 12oz
Item #s: DC-CS-12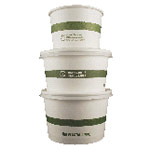 PLA lined paper containers
Sizes: 8oz, 12oz, 16oz, 32oz
Item #s: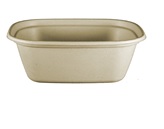 Wheat Straw Fiber- Salad Box
Sizes:
Item #s: CT-SC-U3